Contact us with questions
Are you looking for a powerful industry solution for your shopfitting planning? Then you should definitely take a closer look at visual-STORE! Our software offers you an intuitive user interface, extensive functions and high flexibility. No matter if you are a shop fitter, manufacturer or architect, with visual-STORE there are hardly any limits. Small store fitters as well as large well-known companies in the industry are already actively using our software. Learn more about visual-STORE and get inspired by our users. Contact us today and let us plan your projects successfully together.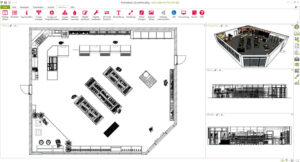 Plan-Soft interior planning GmbH
Zwötzener street 75
DE 07551 Gera
Phone: +49/ 0365 551 550 0
Mail: info@plan-soft.com
If you have any support questions, please visit our partner site here.